Trends in television
The introduction of video-on-demand (VOD) services including Amazon and Netflix has revolutionised the way we watch TV. They are each gaining millions of new subscribers each year and produce ever more of their own award-winning content. Netflix is still the market leader, enjoying subscriptions from about 25% of British homes (up from 14% in 2014).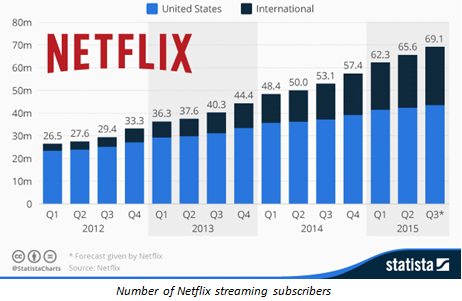 These new technologies let us watch what we want, when we want and on whatever device we want, and are transforming traditional television viewing habits. Viewers can now choose from hundreds of different TV channels and this has led to a massive demand for new programmes covering a wide range of different genres.
Supporting TV and Film – Production Funding
Many of the UK's smaller TV and Film production companies receive grants from areas such as the UK Film Council/British Film Institute, crowd-funding, and even local councils and charities. The majority of funding though comes from High Net Worth investors who invest into these companies through tax efficient vehicles such as SEIS/EIS.
The UK government introduced the Enterprise Investment Scheme (EIS) in 1994 to encourage private sector investment into some of Britain's fledgling companies. Because of the additional risks of investing into smaller companies, compared to blue chips, an EIS investment comes with a number of valuable tax benefits. These include relief from income tax, inheritance tax and capital gains tax. In addition, any losses can be offset against earnings and capital gains, which is known as 'loss relief'.
Why invest into TV and Film?
There are several potential advantages of investing into a TV and Film company:
The sector is largely uncorrelated to the wider markets – regardless of how bad the outlook for the financial markets may become people will still watch their favourite TV programmes.
The outlook for the film industry is very bright with revenues set to reach £65bn by 2019, PricewaterhouseCoopers says.
Even during the recession (2008-2009) the global film sector grew by 11% in the UK, whilst the FTSE 100 fell by 8.6%.
Under EIS investors receive 30% of the amount invested back from the UK Government in the form a tax rebate.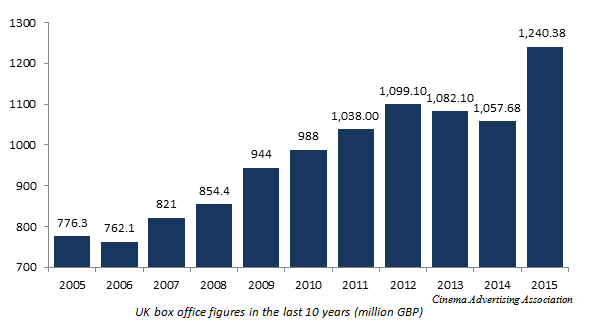 The graph above shows strong growth in box office receipts, suggesting that the entertainment sector is largely recession-proof and performance is uncorrelated to the wider markets.
Which are the most popular genres?
Films within the comedy, adventure, and action and drama genres account for about 80% of films made.  The 2015 Star Wars film, The Force Awakens took the top spot in the highest-grossing films list in the UK in terms of nominal box-office sales totalling £122.3 million. When considering the number of admissions, Gone with the Wind (1940) is the most successful film, although this was achieved over several release cycles prior to the home video era. A big year for blockbusters drove ticket sales in the UK to an all-time high in 2015. With Spectre, James Bond broke his own record by leading box office sales to £1.31bn. In all time total figures, Skyfall is in second place with £103 million and Spectre is third with £95.2 million.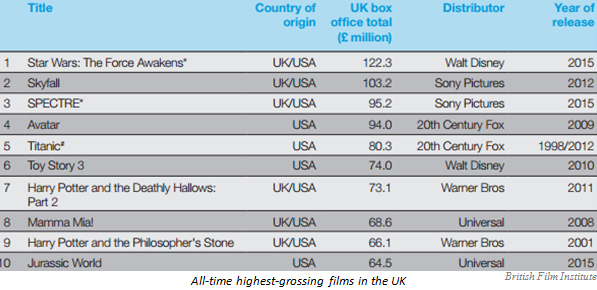 Soap Operas still lead the way and attract the highest UK viewing audiences, and it is hard to see the smaller production companies trying to compete. In 2014, The Daily Mail reported that we are already being fed 494 hours of TV cookery each week. Food programmes such as "MasterChef" and "The Great British Bake Off" attracts huge numbers of viewers – the companies making these programmes enjoy prime slots on main stream channels and at peak viewing times – any investment into a company such as this should be very lucrative.
Are there any stones which have been left unturned?
If you believe that there are too many food programmes on TV what about a cutting edge wine programme filmed in a style which would appeal to a broad age demographic?  In my view, the viewing public is ripe for a decent wine programme – the wine element of most food and drink programmes has been limited to a few seconds of an Oxbridge chap standing in a supermarket aisle, pointing to bottles on the top shelf, and telling us which wine to drink with our Sunday roast!
In contrast, Rick Stein's programmes are engaging and ever popular with viewers. Surely a wine programme filmed in a similar theme would be a commercial success figures! Programme makers have, up until now, been missing a trick!
Some production companies are making vast sums, often from programmes produced on a low budget, because they are attracting huge viewing audiences each week. Invest in these types of companies, and TV and Film has the potential to make you a pretty penny, whatever happens to the main markets.
http://enterpriseuk.co.uk/wp-content/uploads/2016/07/tv.jpg
500
1000
admin
http://enterpriseuk.co.uk/wp-content/uploads/2017/06/EmtUK_FinancialEcosystem-300x98.png
admin
2016-09-06 16:13:11
2016-09-07 14:07:40
Do TV and Film Investments Make Money?